RETAIN HEBREW VOCABULARY WITH RUNWAY FLASHCARDS

WANT TO BUILD YOUR HEBREW VOCABULARY
& NEVER FORGET A WORD AGAIN?
It is now totally possible, and you can do it using your smartphone, tablet or computer - wherever you are!
>>> Check out the exclusive offer we have for you on this page !!!


Read below for more information...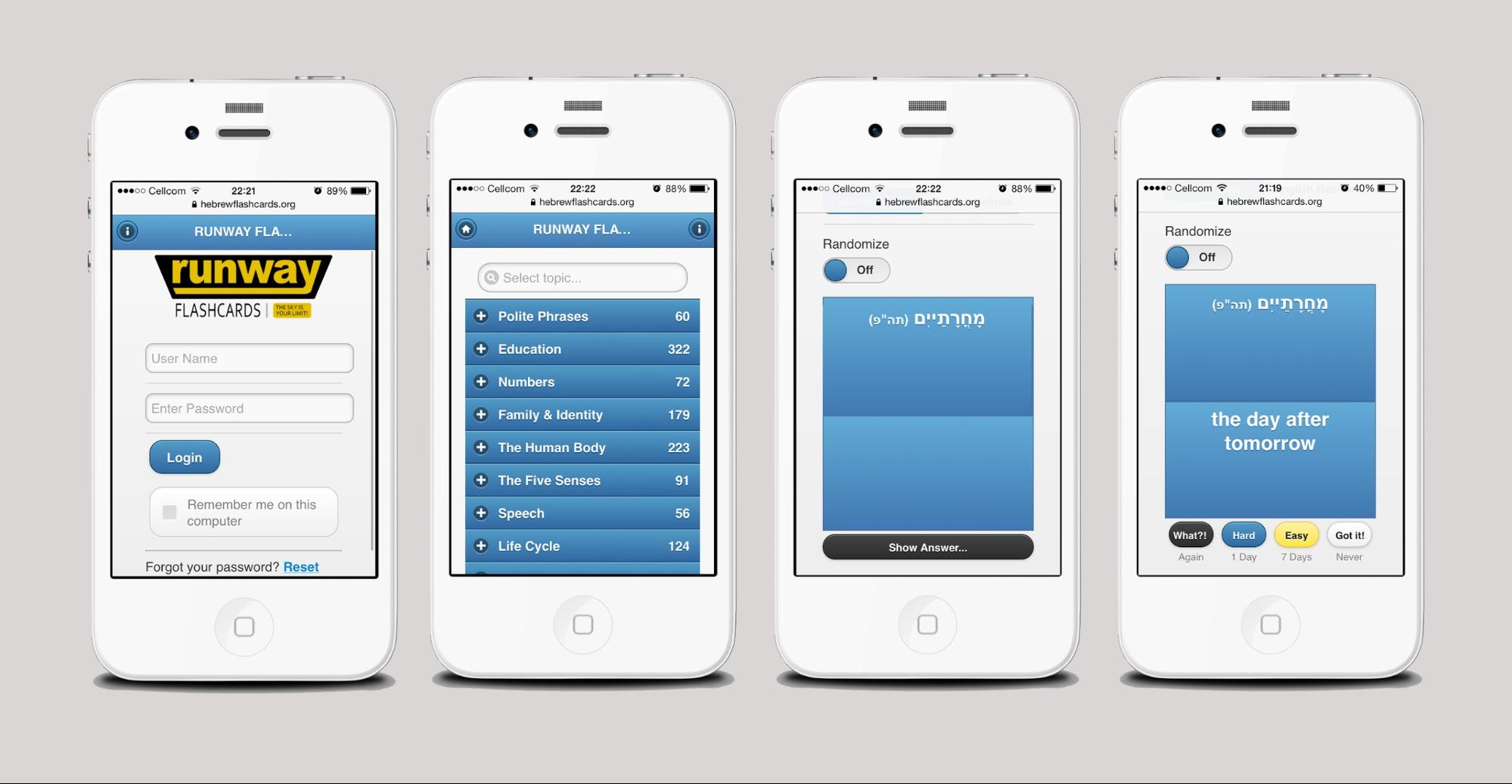 To best illustrate how the Runway Flashcards can significantly help you build your Hebrew, we'd like you please to join us for a little journey.
4 years ago, shortly after completing our now best-selling book 'English Hebrew by Subject', we discovered the spaced repetition ANKI flashcards.

We thought that anyone using ANKI together with 'English Hebrew by Subject', will soon be on the runway for fluency in Hebrew.

They instantly seemed like a phenomenal complement to our book, for retaining new vocabulary.

So, Claire wrote a blog about it (which became quite popular) and recommended it to everyone on our mailing list (with the years over 5,000 people).

But there was one problem. The ANKI flashcards came blank – the words needed to be added by the users.

Initially, we didn't think that would be a problem, but then the emails started coming in – and they all asked for exactly the same thing: have you got ready-made ANKI-decks based on your book with pre-loaded vocabulary in them?

What we didn't realize back then is that although ANKI's functions are amazing for a lot of people - and that's the message we got in dozens of emails - adding the vocab is not an easy task and is often very time consuming.
So, fast forward to almost four years later, and after many different plans and changes
we're now excited to present to you (tah-dah…!) our entire 'English Hebrew by Subject' book with over 10,000 terms, on flashcards, like ANKI, only more targeted and built specifically for the purpose of building vocab.

It follows exactly the same structure of the book. There are over 40 main topics, each further divided into sub-categories. Those sub-categories are your decks.

So for example, a chapter such as 'The Human Body' includes sub-categories / decks like: 'General Terms', 'The Head', 'Limbs', 'Internal Anatomy', 'Adjectives' and 'Verbs'.

It then uses a unique 'spaced-repetition' technology, which tests you frequently on words that are difficult for you to learn, and less often on the words that you find easy to remember. You will be tested again and again (and again!) until you just can't forget the vocab you want to learn.

Also, when you test yourself from Hebrew to English it records your answers separately from when you test yourself the other way around, as our passive vocabulary (understanding a word) is often much better than our active vocabulary (recalling a word).
Another two major great things about it are -
1) You can access the flashcards 24/7, wherever you are – all you need is an internet connection, and your smartphone, computer or tablet!

2) Even if you just commit to 10-15 minutes of learning per day, you will see huge improvements within a single week.
So to start using it, just follow the instructions below, and within a few clicks you'll be able to practice your vocabulary and build it much-much further.
Also, if you join now from this page...
We're also going to offer you an excellent one-off price that will remain fixed for as long as you want to use the flashcards.
This means that if you choose the Yearly Membership, whatever you pay now will remain your yearly rate even as we add more features and upgrades, which you'll also have total access to. And if you choose the Unlimited Membership - you will get all these future versions without needing to ever pay again!

Plus, there is always our full guarantee - that if you're not satisfied within 30 days, we'll give you a full refund, no questions asked, so there's really nothing to lose by trying it out.

With this huge build up, you probably think it's going to be very expensive, but we do want to make Hebrew learning affordable for as many people as possible!
SO - if you join now from this page...
Instead of paying $49.90 for the year,

you will pay only $45.90!

Or:

if you choose to get the Unlimited Membership, you will pay a one-off payment of only

$74.90

instead of $79.90.



And as we said there's a 30-day money back guarantee and if you choose the Yearly Membership the price will remain fixed for as long as you remain subscribed.
Note, that this is an exclusive offer which is only available on the link below!
To gain instant access, order now by Credit Card or by PayPal. To do so just click on the appropriate link below and follow the instructions. Payment is through Paypal, making your transaction safe & easy.

If you don't have a Paypal account – look at the bottom centre of the Paypal payment page, and click on 'Pay with a debit or credit card' (note that due to Paypal policy this is only available for the yearly option)

If you don't have a paypal account – look in the bottom centre of the page, and click on 'Pay with a debit or credit card'.

30-DAY FULL MONEY BACK GUARANTEE!
We are confident you are going to find the flashcards very useful, and therefore offer you a full refund if you are not satisfied within 30 days from you purchase.

Yearly Membership > Only $45.90 (instead of $49.50).
Price remains fixed for as long as you remain subscribed, enjoying future upgrades and features at the same yearly price you pay now.


Unlimited Membership >

Only $74.90

(instead of $79.90).
One off-payment, enjoying future upgrades and features at no extra cost.


Once your order has been received you will be automatically redirected to a secure and verified page where you'll be able to set-up your account and gain immediate access to the flashcards.

If you have any questions, or if you would like to pay over the phone, by check or by any other method of payment, please do contact us by phone: +972-(0)54-735-6769 or email: claire@engheb.com